---
---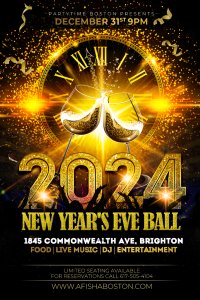 You are invited to our annual NEW YEAR's EVE BALL

Amazing food, entertainment, live music and dancing in one place for one unforgettable celebration!
DECEMBER 31, 2023 9:00 PM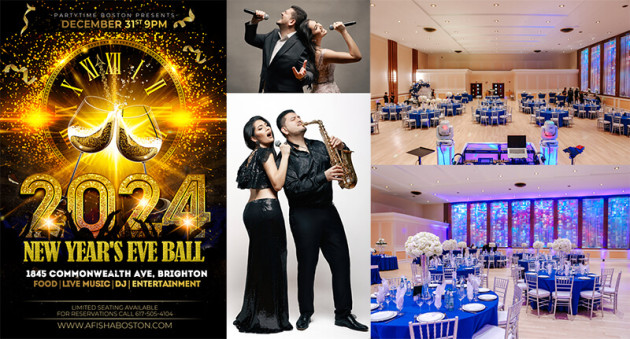 Live music by: Arslan & Malika Khaydarov
Entertainment & DJ by: PartyTime Boston
Decor by: TR Decorations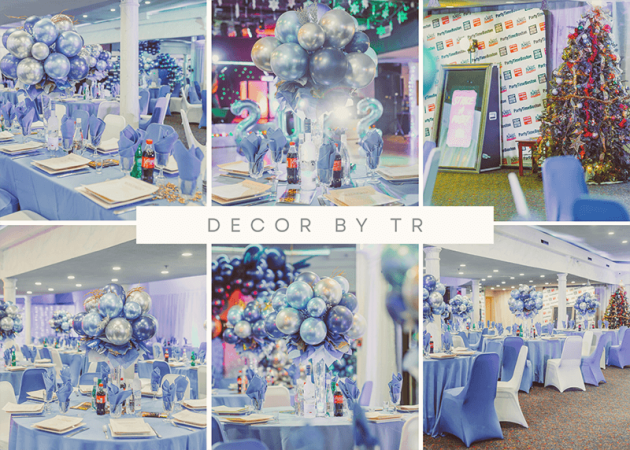 Join us as we welcome 2024 in Brighton with delicious food, live music and amazing entertainment. This will be a full-service sit down banquet.
Seating is limited
For questions and reservations:
617-505-4104

8 person minimum for a private table. If your group is smaller than 8 people we can find a table for you to join.

*************************************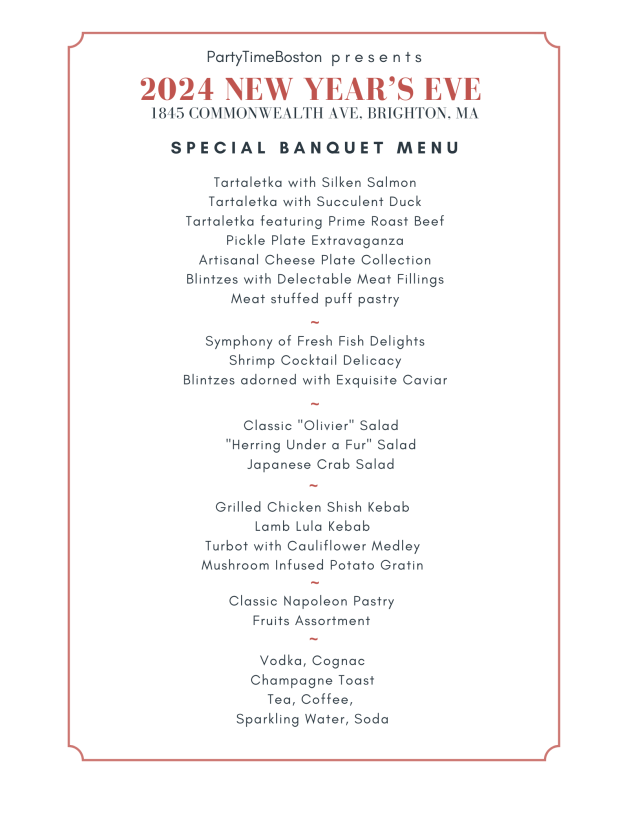 Special Banquet Menu
(service & alcohol included)
~~~~~~~~
Tartaletka with Silken Salmon
Tartaletka with Succulent Duck
Tartaletka featuring Prime Roast Beef
Pickle Plate Extravaganza
Artisanal Cheese Plate Collection
Blintzes with Delectable Meat Fillings
Meat stuffed puff pastry
~
Symphony of Fresh Fish Delights
Shrimp Cocktail Delicacy
Blintzes adorned with Exquisite Caviar
~
Classic "Olivier" Salad
"Herring Under a Fur" Salad
Japanese Crab Salad
~
Grilled Chicken Shish Kebab
Lamb Lula Kebab
Turbot with Cauliflower Medley
Mushroom Infused Potato Gratin
~
Classic Napoleon Pastry
Fruits Assortment
~
Grey Goose Vodka
Courvoisier Cognac
Champagne Toast
Tea, Coffee,
Sparkling Water, Soda
REFUND POLICY: No Refunds. All sales are final.